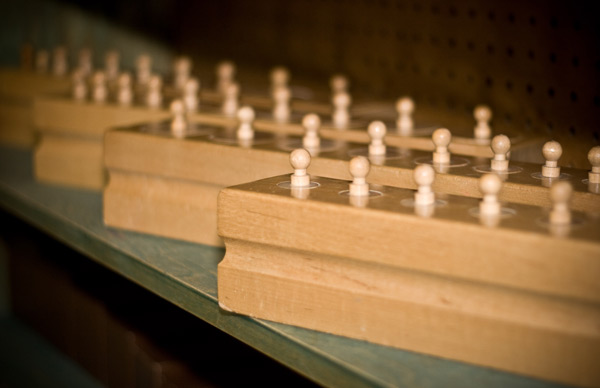 Children join Leitrim Montessori at approximately 2.5 years of age and are with us for a 3-year program. This means they leave us the year that they move to Grade 1 in the fall.
The first year, the children are involved in lots of practical life and sensorial activities, and observing the older children. This first year prepares the children for the 2nd year when they gain confidence and engage more with the materials especially in Math and Language. The 3rd year is when the children gain a greater amount of confidence and their learning begins to move from concrete to abstract. It is in this last year that you really see the change in the children, their confidence shines through, and a solid foundation and love for learning is apparent. At this stage children are reading fluently, organizing their thoughts to give lessons to the younger children, printing, working on individual projects, working with numbers in the 1000's, addition, subtraction, division and multiplication.
For the Montessori Method to really make a difference in your child's development, we highly recommend allowing them to complete the full three years.
The Montessori Philosophy
Montessori is an approach to early childhood education that focuses on the immense capacity of children to absorb information when given the freedom and independence to learn at their own pace.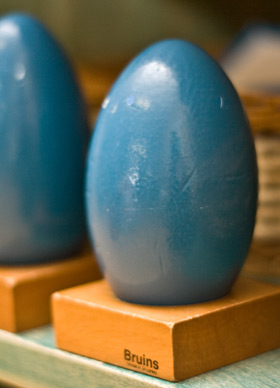 It takes its name from Dr. Maria Montessori whose scientific background and belief in the potential and uniqueness of children empowered her to develop an educational approach that appreciates how children's thought processes differ from those of adults. Her insights and approach to child development have been enormously influential all over the world, both through what has become the Montessori movement and through mainstream education, which has gradually accepted many of her practices.
How is it Different?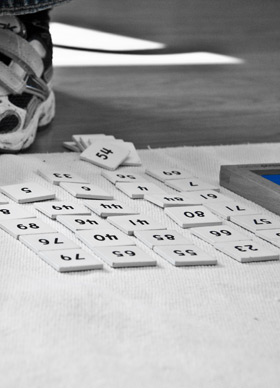 What makes the Montessori approach different, and what makes it work so well, is that it is based on a deep understanding of the way children learn – through choosing, trying and doing themselves. When allied to the availability of specially developed materials in a prepared environment, and the close observation and guidance of a Montessori trained teacher, this leads to an enormously powerful, confidence-building approach to learning.
How Does Learning Happen?
Ontario's Pedagogy for the Early Years
How Learning Happens at Leitrim Montessori Preschool
FOUNDATIONS
GOALS FOR CHILDREN
EXPECTATIONS FOR PROGRAM
LEITRIM MONTESSORI APPROACH
Belonging
Every child has a sense of belonging when he or she is connected to others and contributes to their world.
Early childhood programs cultivate authentic, caring relationships and connections to create a sense of belonging among and between children, adults, and the world around them.
LMP assists the child in adapting to its time, place and orientate themselves to their group, the adults in their lives and between themselves. This is done through a) specific Montessori materials which allow the child to explore geography (physical, cultural, political, economic and cartographic), geology, history and science (living and non-living) (REF: LMP Program Development - Culture); b) Show and Tell where children share their life away from school with their fellow students: c) daily journaling between parents and teachers is used as a communication tool between children, parents and teachers; d) promoting community work such as bake sales, food bank collections and promoting charity collections for various charity 'homes'; interacting with 'Plan International' adoptee; e) in-school visitors from the community- ie. Ray's Reptiles, library readers, local firefighters etc. Multi aged classrooms allow for peer learning and mentorship and gives the children a true sense of belonging.
Well-Being
Every child is developing a sense of self, health and well-being.
Early childood programs nurture children's healthy development and support their growing sense of self.
LMP provides the children with domestic occupation which is important for their whole development in areas of Integration of personality, refining of gross and fine motor skills, independence, concentration, coordination, order and self-discipline with three specific areas of curriculum: Care of self, care of the Environment and Grace and Courtesy. (REF: LMP Program Development - Practical Life)
Engagement
Every child is an active and engaged learner who explores the world with body, mind and senses.
Early childhood programs provide environments and experiences to engage children in active, creative and meaningful exportation, play and inquiry.
LMP achieves this goal through the presentation of materials in both the Sensorial and Mathematical areas. The sensorial materials are specially designed to help educate and sharpen the senses through repetition and the creation of order and clarity. Sensorial exercises assist the child to focus their attention more carefully on the physical allowing the child to be creative and develop an inquisitive mind through play. Mathematics exercises provide the child the opportunity to explore the world of numeration, operations and place value again developing an inquisitive mind through play. (REF: LMP Program Development - Sensorial and Mathematics)
Expression
Every child is a capable communicator who expresses himself or herself in many ways.
Early childhood programs foster communication and expression in all forms.
LMP provides language materials to assist in the development and extension of vocabulary by exposing children to the concepts of language. Preparation for this important aspect of child development also occurs in the use of the materials in the Practical Life and Sensorial Areas as discussed previously. All these exercises, presented through the original Play and Learn curriculum prepared by Maria Montessori, lead to letter recognition, reading, and personal expression through writing. (REF: LMP Program Development - Language) Creative Expression also comes into being as the children express themselves through art work. They study a different artist each month then work with the same media; by learning sign language; through artist and composer studies which also incorporate the use of musical instruments specifically designed for children; exploring their own creative interests through mixed media such as: paint, watercolours, clay, play dough, crayons, markers, glue and construction materials.