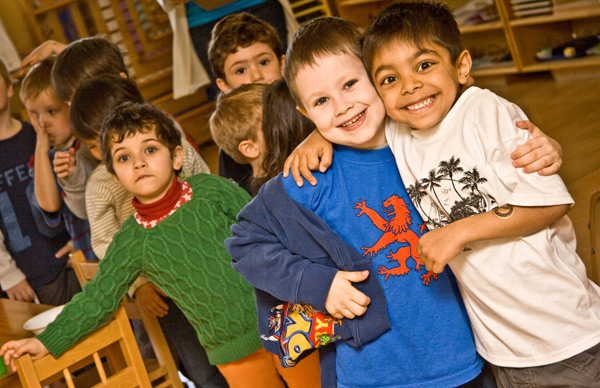 Testimonials from Parents of LMP Graduates
We have had three children at Leitrim Montessori Preschool — our oldest graduating two years ago — so we've had the opportunity to see Jack transition to public school. I will never forget Jack coming home after two weeks in Grade 1 and telling us, "Mom, Grade 1 is easier than graduating class at Montessori!"

That experience made us realize that it was essential we keep our girls, Amelia and Madeline, at LMP for a third year so that they could also benefit from being part of the graduating class. This year we've seen their abilities blossom as they proudly show us how they read, demonstrate their skip counting and sing us songs they learned in French.

We believe Jack received an enormous head start at LMP in core areas, such as reading and mathematics which has enabled him to excel in school these past two years. I firmly believe that the confidence Jack gained in his academic abilities during his graduating year at LMP is the root of his enjoyment of school. 

No doubt, keeping the twins in for a third year was a financial commitment, but it is one we were glad to make. We firmly believe that this time at LMP – a positive, nurturing, caring environment – is an investment in Amelia and Madeline's future by establishing in them a love for learning.

Sean & Dyan Conrad
Both of my daughters, now ages 10 and 8 attended Leitrim Montessori Preschool beginning at 3 years of age. I feel that this was a great way to start their years of education and socialization. This school provided them with a loving environment that was essential for their first experience being separated from mommy. We were continually updated and aware of their challenges and achievements. The school was amazing in their communication with us. We were never left in the dark about our child's interactions. The teachers are very gentle and loving… When we left Leitrim Montessori to enter a private school at Grade One, both girls were well-equipped and prepared. Their teachers commented on their good manners and attention span. They also noted that they both were very strong in their reading. This is where I have seen the greatest benefit. A strong foundation in reading and comprehension has allowed them to advance in every area of their grade level. This also helped to build their confidence in their new environment. As far as a school community goes, there is no better one out there. The staff are just amazing. They are gentle with the children and so attentive. They provide a safe environment to allow children to discover learning and to find their own interests. They are encouraging as well as equipped to spot any early indications of learning disabilities or concerns. We have and still continue to recommend Leitrim Montessori Preschool to our friends.
-Stewart and Tammy Hum
We are so pleased to have had our daughter attend Leitrim Montessori Preschool. She attended the program for three years from age3 to 6. Her personal development during that time was exponential and remarkable to us, her parents. We believe wholeheartedly that so much of her growth is due to the loving, stimulating, safe and engaging environment at Leitrim Montessori. The teachers were supportive and connected. They treated each child as a special individual while facilitating both collective and self-initiated learning. My daughter's continued capacity to integrate new material effectively, stems directly from the skills she was taught at Leitrim Montessori. The benefits of starting off in that environment and leaving with a solid base, we believe, will keep her in good stead in her academic endeavours in the years to come. We definitely look forward to providing our infant son with the same opportunity in a couple of years.
-Veronica Doyle
Dan and I would like to take a moment to thank everyone at Leitrim Montessori Preschool for everything that was done for our daughter Rhys. In the 3 years that Rhys spent at Leitrim Montessori, she learned many things, but most importantly made good friends with everyone; even though it has now been 3 years since Rhys graduated, she still talks about her 'first school' and all the fun that she had while she was there. We believe that this was the ideal way to start off Rhys' education and the beauty of it all was that she learned to love school so much. The teachers in Grade 1 at Rhys' elementary school all commented on how well she behaved in class and reached out to help others when they didn't understand the lessons; such was the self-confidence that started with Leitrim Montessori.
-Dan and Candace Haug
Naya graduated from Leitrim Montessori Preschool to Ottawa Montessori School and the transition went very smoothly. The confidence, social skills and thirst for knowledge that was so carefully nurtured at Leitrim Montessori allowed her to fit right in and excel from day one at OMS. We are both so glad Naya was able to attend Leitrim Montessori Preschool.
-Richard Weiler
Thoughts on Montessori for Mum
Since starting teacher's education at SFU I have reflected on my own educational experiences, reconsidering them in a new light. I have especially thought about my experience with Montessori as a young child as well as my Mum's career as a Montessori educator. In learning more about education, and Montessori in particular I was surprised how much of my thinking about education has been shaped by Montessori ideas.
I think students learn best when they are able to pursue things that actually interest them and are encouraged to explore the world around them. I also think that an important part of education is students learning from each other, working on activities with their peers and generally having fun together! I think Montessori education embodies all these things with its focus on experiential learning and developing strong social skills.
As a student and as a future teacher, I dislike a top-down approach to education where the student is encouraged to just sit still and do what they're told. I find this style of education rigid, uncreative and not conducive to learning. However, I think learning without any structure can be a problem too, with students not having anything solid on which to base their learning. I think once again the Montessori approach is a great one. It provides a structure, in terms of the activities which teachers present to students, each of which is designed to teach a different concept or task to the student. However, students are then encouraged to explore those activities at their own pace, choosing the activities which interest them and then working at them either individually or as a group. 
During one of our lectures about Montessori education one of the students in my class asked the instructor whether the focus on learning set activities discourages creativity. The instructor replied that far from discouraging it Montessori education provides the framework upon which student creativity can flourish. Once a student has mastered an activity they can reimagine it in new ways, drawing on skills they have learned from other activities or even something of their own invention. My mum gave a great example of this, telling me about a group of students who had just learned how to do puzzles from one of their activities. Once they had finished doing the puzzles they then decided to trace out the puzzle shapes. After they did that they cut them out and reassembled a whole new puzzle! By learning the activity they were then able to reinterpret in a new and creative way.
Doing this program has made me realize the ways in which Montessori principles can shape the ways I hope to teach. Montessori values of student autonomy, experiential learning, social learning and structured activities all offer ways to educate students with a diverse array of abilities and interests. In doing so it supports student creativity, provides solid foundations to explore new things and makes students an active participant in their own learning. I will continue to draw on all of these ideas as I start my first teaching practicum this Spring.
Sean Phipps